By Richard Moody
March 19, 2015
A caucus of New York City Council members is showing state level officials where they stand on education issues in this year's budget...
"We're not here to tell the folks in Utica or Buffalo or Schenectady how to run their cities. We're simply here to ask for the ability to control our own destiny in New York City," said Councilman Mark Levine.
Add your reaction
Share
---
by Samar Khurshid
Mar 19, 2015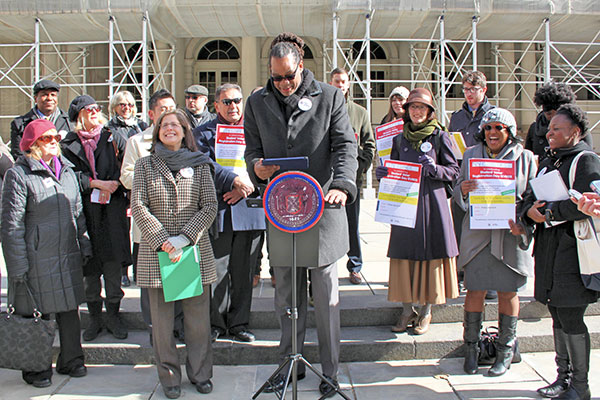 Only 11 percent of young New Yorkers voted in the last citywide elections. City residents between 18- and 30-years-old have the lowest voter turnout of any age or socioeconomic group. They are also least likely to be registered to vote...
Council Member Mark Levine also spoke to history, and said that there is a need to change the current culture around voting in the city and the country. "The generation that came of age long after the Civil Rights Movement has taken this right for granted, this hard-fought right that many people marched for and some even died for. And if we're gonna change the culture, that has to start with young people and young leaders," he said.
Add your reaction
Share
---
Myles Ma
March 17, 2015
EDGEWATER -- A New York City councilman wants to bring his district closer to Bergen County.
Mark Levine, who represents Washington Heights, Hamilton Heights, Morningside Heights, Manhattan Valley and part of the Upper West Side in the New York City Council, on Monday called for ferry service between West 125th Street and the Edgewater ferry terminal in an opinion piece in amNewYork.
Share
---