By John Surico
July 1, 2015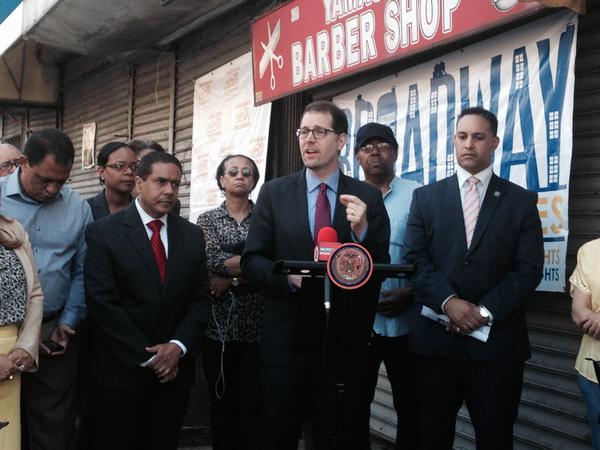 Mid-June, it was a block in Washington Heights that was poised to be the next to close up shop. The landlord, Coltown Properties, looked to evict the mostly Latino-owned stores on the street, which included a barbershop, restaurant, and income tax service. The store proprietors faced the same issue as many other small business owners in New York — there was nothing they could do.
"Collectively, the businesses on this block have been in operation for over 80 years," local City Council Member Mark Levine said at a press conference on 162nd Street and Broadway. "At a time when unemployment rates in our neighborhood are disproportionately high, these businesses are vital to the economic livelihood of this area." Levine's office is partnering with Legal Aid Society to provide legal assistance to small businesses in his district.
This is New York today, the plight of the city's small businesses is grumpily accepted like a late train. It's perceived by many New Yorkers as a part of the city grind, the dog-eat-dog, if-you-can-afford-it-here-you-can-afford-it-anywhere reality of a town teeming with opportunity, but becoming evermore competitive - and expensive...
Council Member Mark Levine, who spoke out against the eviction of the small businesses on a block in Washington Heights, in his district, says that there are other options that can help stem the tide of closing small businesses. And these, he said, do not necessarily require either a dying bill or a dead government. "Albany is not acting in any domain, really," he quickly noted.
Do you like this post?